A Hot cup of tea every morning with a newspaper in her hand starts the day for this charming middle aged lady Tarunima. She is following her everyday routine and the bell rings .The clock is ticking seven a.m. She opens the door and finds her student persuing Ph.d and Tarunima is her guide.
Tarunima : Good morning Manisha. Please come in. How are you doing today?
Manisha : good morning madam .Doing very well. How about you?
Tarunima : Doing good too. Thanks. Please have a cup of tea. It has real good flavours of tulsi, and ginger.
Manisha : Thankyou Madam. That's so kind of you. What else can be best than a hot boiling cup of tea early in the morning (smiles)
Tarunima : How is your work on the thesis going on. Is there any progress?
Manisha : Yes madam. I have got it with me. Here it is. Please have a look.
Tarunima : Good. I'll go through it and accordingly advise.
Manisha : Thankyou Madam .Well, I wanted to ask you something from a very long time. This question has been on my mind but could never ask.
Tarunima: Yes Manisha. Please go ahead.
Manisha: This picture of yours is very fascinating. Dressed in the crisp uniform, it is so pretty and attractive. Whenever I see this I wish even I was an Air Hostess! Well who would have thought that a pretty Air Hostess like you could one day become one of the most sought after Management Guru!
Tarunima: Well yes, it is a very important part of my life. Infact I can say that whatever I have in my life today started all from there. It is a phase of my life that makes me proud and amazed at the same time that did I really do, what I really did!!! (smiles)
Manisha: well madam, my sister and some of her friends are very keen to be a part of this industry. They have just entered into college but dream of becoming an Air Hostess only.
Tarunima: Well there is no harm in it. However it is very important for them to be very clear in their mind that do they really want to do this? For this they should try to find the details, as much as they can and then decide.
Manisha: well madam, who can be a better mentor than you. I am sure you will never misguide anyone of us.
Tarunima: anytime! It would be my pleasure. It has always been my endeavour that I guide this generation through my experiences. I just wish that they become more aware about their career moves and refrain from committing mistakes that our generation did as no proper guidance was available to us.
Please call them tomorrow. We will utilize this Sunday very effectively.(smiles)
Manisha : Thankyou so much madam. We'll be here tomorrow by 10.
Tarunima : Sure and the lunch is on me tomorrow.(smiles)
Tarunima : Please come in. Good Morning(smiles)
All : Good Morning madam.How are you?
Tarunima : Doing good. Did you all have your breakfast?
Manisha : Yes madam we all had.Thankyou. She is my sister Divya .Her friends ankita, priya, gagan and nakul. They all were very keen to meet you and learn from you.
Divya : Madam I really really want to become an Air Hostess. But I do not know where to start from and what all to do.
Priya : Madam I love their lifestyle. I mean everything about them is so fascinating.It would be such a nice life. No tensions , good money ,free travel and too much fun…..wow…..
Tarunima : Wow…You all seem to be so excited about flying with such optimism. I must say I have seen it after a real long time. Great going.
Yes Priya, they do travel a lot, earn handsome salary, party in different cities or for that matter countries if they are flying international.
But these all things are the perks. Do you really know how much work they do and what all they have to do to conduct one successful flight. Get to know all that too and be a step ahead from everyone else. It will be helpful for making the correct choice for your career too.
Ok the tea is here. Nice tulsi with ginger….my favourite!!! Well I really need at least 6-7 cups a day to keep myself charged all day (smiles)
Nakul : Madam can I also fly as a cabin crew (flight steward).I see that most of the airlines hire only girls.
Tarunima : Oh yes Nakul. You can very much fly. Yes it is true that there are limited opportunities for boys, but almost all international airlines hire boys and some national too. You just have to find your right place.
Nakul : Yes Madam that's true. However when I tell anyone that I want to fly as a cabin crew, their reactions are very demotivating. They say that if you have to fly then become a pilot instead, why a cabin crew. My cousin once told me not to put the family down by doing such a thing.
Tarunima : See Nakul. The population of this world is in unaccountable numbers. The first thing you have to do is refrain from getting affected by the negative environment around you. It is definitely difficult but if your goal is in front of your eyes with the determination in your heart, these things won't matter especially when you will achieve your goal.
But yes it is very important for you to make sure that what you are getting into will provide you with the most important thing in the world – SATISFACTION.
If you get the answer as a YES then don't think twice, do not take any advice, just go for it!!!
Put your heart and soul in achieving it and then no turning back….
Ankita : Madam I have been looking for some training institutes that provide training for becoming an Air Hostess. Shall I join them? Do they really help? Did you join any one of them too?
Tarunima : Well yes there are a lot of them these days. During our times they were just handful. But coming out with flying colours is all in your hands. No body can guarantee you that.
As far as I am concerned I did not join any of these. I could not rather! Well there's another story behind it (smiles).That I'll tell you some other day.
Manisha : Madam, please share with us. We will never get such a wonderful opportunity again. Please tell us about your career, your journey from an Air Hostess to a Management Guru! It will be really encouraging for us.
Gagan : Yes Madam, god knows when will we meet again like this. We really want to know how was it being an Air Hostess, actually flying, wearing that uniform ,everything…..Please.
Tarunima : Fine then. I am always ready to share my experiences .It may actually help you to understand the planning, preparation and also the amazing world of AVIATION!!
I just hope you all do not get bored (smiles)
Nakul : Not at all madam. It will be so inspiring to know the life story of someone like you. Even being such a big achiever in life you are so down to earth and so humble. I never thought we'll be at so much ease with you. You are just so SIMPLE!
Manisha : Yes Nakul. Tarunima Madam is such a LADY who has been a very simple GIRL…. She is really an ideal for us.
Tarunima : Come now we will go into the bedroom and talk. My Husband will come back from the flight in some time too and then we can have lunch together….
Tarunima is 36 years of age now and is known by the term 'Management Guru. As we can see she is also the guide of a student who is doing her Ph.D in Management. With her achievements in life and a humble and approachable attitude, she is not just a teacher but a guru in the real sense. The respect and faith that her students give her can be clearly seen.
The advice rendered by Tarunima to the young undergraduates on different topics covering aviation in general and cabin crew career in particular are only a few points to give you an idea of what all we will be talking about in this book through Tarunima's experiences.
All the topics starting from training to be an Air-Hostess to the journey of flying to the afterlife of flying and much more. It will not just take you through her journey but also show the real solutions of challenges in work and life through scientific reasoning.
This guide will be your interactive friend throughout this book and will help you assess the situations and come to the solutions.
The upcoming chapters are sure to break the various myths about being an Air-Hostess. Myths like she needs to be fair and only then she can be termed beautiful; it is a food-serving job and nothing else; it is not an ethically good career for girls; all Air Hostesses are dumb, they are not well-educated……. and many many more.
So come along with us to enjoy this beautiful journey of Tarunima which could be yours one day or may be it is your story only for friends who are flying or have flown!!!
Cabin Crew Career Guide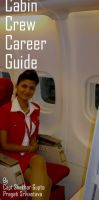 By
AeroSoft Corp
Rating: Not yet rated.
Published: Aug. 26, 2013
(This book is Not Yet longer published)
Words: 20,160 (approximate)
Language: English
ISBN:
9781301001965
Short description
Cabin Crew Career Guide By Capt Shekhar Gupta Pragati Srivastava www.Cabin-Crew-Career-Guide.blogspot.com
Cabin Crew
Career
Guide

By
Capt Shekhar Gupta
Pragati Srivastava

www.Cabin-Crew-Career-Guide.blogspot.com

1. Your Aviation Career Starts Here
2. Cabin Crew Training
3. Cabin Crew Flight Ratings –
4. Cabin Crew and Personal Computer
5. Medical Requirements for Cabin Crew
6. Cabin Crew Training – Where to get it.
7. Best Cabin Crew Training Schools
8. Aviation Crew [Flight, Cabin, Ground]
9. Aircrafts [Single Engine, Multi Engine, Prop, Turbo Prop, Jet]
10. Best Paying Cabin Crew Jobs
11. Cabin Crew Interview Questions
12. Aviation Organizations
13. List of Abbreviations
14. Aviation Jargons
15. FAQ