"Your father has brought the form of CA and B.com too. Here it is. Read it carefully and then fill it." Said my mom.
"CA form??" I screamed. "I don't want to do CA ma. I had already told you earlier. Didn't you tell papa?"
"Am I suppose to be a mediator between both of you all the time? I am not saying anything to your papa. Go and talk yourself "she said while clearing my shabby bed.
"Mom I told you about that thing". I said irritatingly "You know how much I wanted to go. But why will you care? You just love bhai. My wishes, my feelings do not hold any importance to you." I said angrily.
" Taru beta , it is not like that. You know it is not possible. Your father will allow you to do it. Please understand it will just create tension in the house. You can't do it Taru" explained my mom.
"But why? Why can't I? At least let me explore. I want to experience it once. Let me go ma please. Talk to papa.
There will be first an interview and then only the selection will take place. After that , joining or not is in our hands ma. Am I right or not?"
Ma said "ok Taru, I will talk. But I don't promise. You know how your father is. He wants you to complete your studies first."
I said "Ma you know I don't want to do CA. I want to do either Fashion designing or Mass Communication or something like that.If not that , I will pursue B.com, I will complete my studies. But not CA.
Please mom, convince him pleeeaaseee. Just once. For me"
Ma said "fine…you won't leave me until I say yes… right"and smiled.
My father just came in when I was engrossed watching a dance show and trying to copy it's steps sitting on my bed. Suddenly I saw him and abnormally stopped. It seemed as if somebody was controlling me through a remote control and he pressed the stop button immediately.
My father was a strict father and did not want us to get influenced by the dance shows or movies. For him studies held utmost priority .
He came into my room and asked "Taru tell me what are you planning. Do you really want to attend this interview? I am fine with this but please let me tell you , think before you take any decision as career moves are very crucial.
You are very young now and 17 years is no age to work. Still I don't want that you kill your dreams. Ultimately you have to be happy in your life".
I said "thankyou papa. Thankyou so much."
He said "all the best Taru. Do well."
"I'll do my best" I said cheerfully.
Suddenly my devil brother entered. I used to hate him for always bullying me. He was always very open to papa and never hesitated to say anything in front of him . Overall he wasn't scared of him as I was.
"Who will take you black beauty?" chuckled my nasty brother. "You know Air Hostesses are so fair and beautiful. They will see your face and reject you there only" and he laughed devishly. I felt, if he had horns on his head just like the real devils do, I would have broken them into pieces.
My father smiled and left the room as this was an everyday routine. My brother's love for me was always in this raw form. The emotional sort was not his type.
" Mommmm" I shouted. " Look bhai is again teasing me. Get him out of my room."
"What happened? Again you both started" she said.
"Not me mom. Why did you say 'you both'? HE is teasing me. You always favour him only. Ask him to go away". I said.
" Varun what is this. Again? Why are you behind her all the time. You know she doesn't like it." She scolded her in the most dramatic way.
"I am just telling her not to think of all this and concentrate
on studies".
Bhai said obediently.
" I know what to do and what not. You don't give me gyan" I said .
"I am your elder brother. Elder to you by whole 3 years. Alright. Look ma how she is talking to me." Bhai complained to mom.
"Oh my GOD" my mom screamed as if bhai really got horns out of his head.
"What happened??" we both questioned out of fear.
"Milk. On the gas. It happens because of you both" she murmured while running slowly and left the room.
" Hey so how much percentage are you expecting in your boards? I know you won't top like me but still…what's your expectation?" Bhai asked.
" I know bhai. You are a scholar but I am not. Happy?" I said irritatingly and my eyes became a li'l soggy which was an everyday phenomena after all the bhai's teasing.
" Ooo my li'l baby….i am sorry… Taru I am serious. Tell me na, how much are you expecting".
"It's ok bhai." I smiled. Thought for a while and said " well actually I am expecting somewhere around 80 to 85 %".
"hmmm" he thought for a while and said " I doubt this will fetch you admission in DU for your degree. The cut – off last time was 91%. This time it is expected to be higher ."
" I know bhai. But I worked hard." I said slowly.
" I know baby. No worries. This is also not bad. They are decent marks. Anyways this is your holiday time , so don't think about the results and enjoy. Start worrying after a month". He told me sounding like the best brother in the whole world.
" Thankyou bhai".I gave a childish smile and said.
"I heard you are going to give the interview tomorrow to enroll yourself in the Air – Hostess Institute. Have you thought nicely about it?" asked my brother.
"Yes bhai. I want to see once how is it all like.I am actually excited". I said.
"Fine then. Go ahead.All the best. Chak de fatte."He gave a high five.
"Thankyou bhai. You are the best bhai in the whole world" I hugged him.
He tipped on my head and said " I know my black beauty" and ran out of the room.
This time I did not get irritated.I was happy as everyone had given a nod to me for attending the interview. I was so relieved. I was thinking what will be my friends reaction when they will get to know about it. I was thinking that Pooja would be so jealous!! I started preparing in my mind for the interview while watching TV.
Well I hope that you all had a refreshing time seeing the environment at Tarunima's house. Many of you would have gone down the memory lane and would be missing your teenage when percentage in class XII was the most important question in life, admissions were the biggest tension , cute sibling fight was the only irritation and holiday's after exams was the most relaxing vacation after so much of hard work!
It was all so simple. Wasn't it? We all have been through this stage or may be some of our friends are going through. Choosing the right career path is always the most difficult process in one's life. It can make or break the castle of your dreams.
This is the same stage that Tarunima in our story is going through. She has won the confidence of all her family members and is going for the interview tomorrow. If she clears it , she will get admission into the institute which trains for being an Air – Hostess. She is excited and thrilled as it is something very new and most of all , none of her friends have applied for it. She will be the only one to go for it!!
This was her little world and innocent thoughts. This was the STARTING POINT of her glorious career she had never even thought of.
So anyone of you preparing to for it tomorrow can relate to it very easily.
But be with us friends. There is a lot more . Will she be actually able to join the institute?
If not, what will be that one thing that will hold her back even after the permission of all her family members??
Want to know…..so turn over!!!
After Setting Yout Target
Even If Your Plans are not Perfect
Adjust Your Course Along the Way
CABIN CREW CAREER GUIDE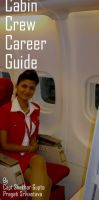 By
AeroSoft Corp
Rating: Not yet rated.
Published: Aug. 26, 2013
(This book is Not Yet longer published)
Words: 20,160 (approximate)
Language: English
ISBN:
9781301001965
SHORT DESCRIPTION
Cabin Crew Career Guide By Capt Shekhar Gupta Pragati Srivastava
www.Cabin-Crew-Career-Guide.blogspot.com


Cabin Crew
Career
Capt Shekhar Gupta
Pragati Srivastava
www.Cabin-Crew-Career-Guide.blogspot.com
1. Your Aviation Career Starts Here
2. Cabin Crew Training
3. Cabin Crew Flight Ratings –
4. Cabin Crew and Personal Computer
5. Medical Requirements for Cabin Crew
6. Cabin Crew Training – Where to get it.
7. Best Cabin Crew Training Schools
8. Aviation Crew [Flight, Cabin, Ground]
9. Aircrafts [Single Engine, Multi Engine, Prop, Turbo Prop, Jet]
10. Best Paying Cabin Crew Jobs
11. Cabin Crew Interview Questions
12. Aviation Organizations
13. List of Abbreviations
14. Aviation Jargons
15. FAQ